Visiting restrictions relaxed at Croydon University Hospital as COVID-19 continues to decline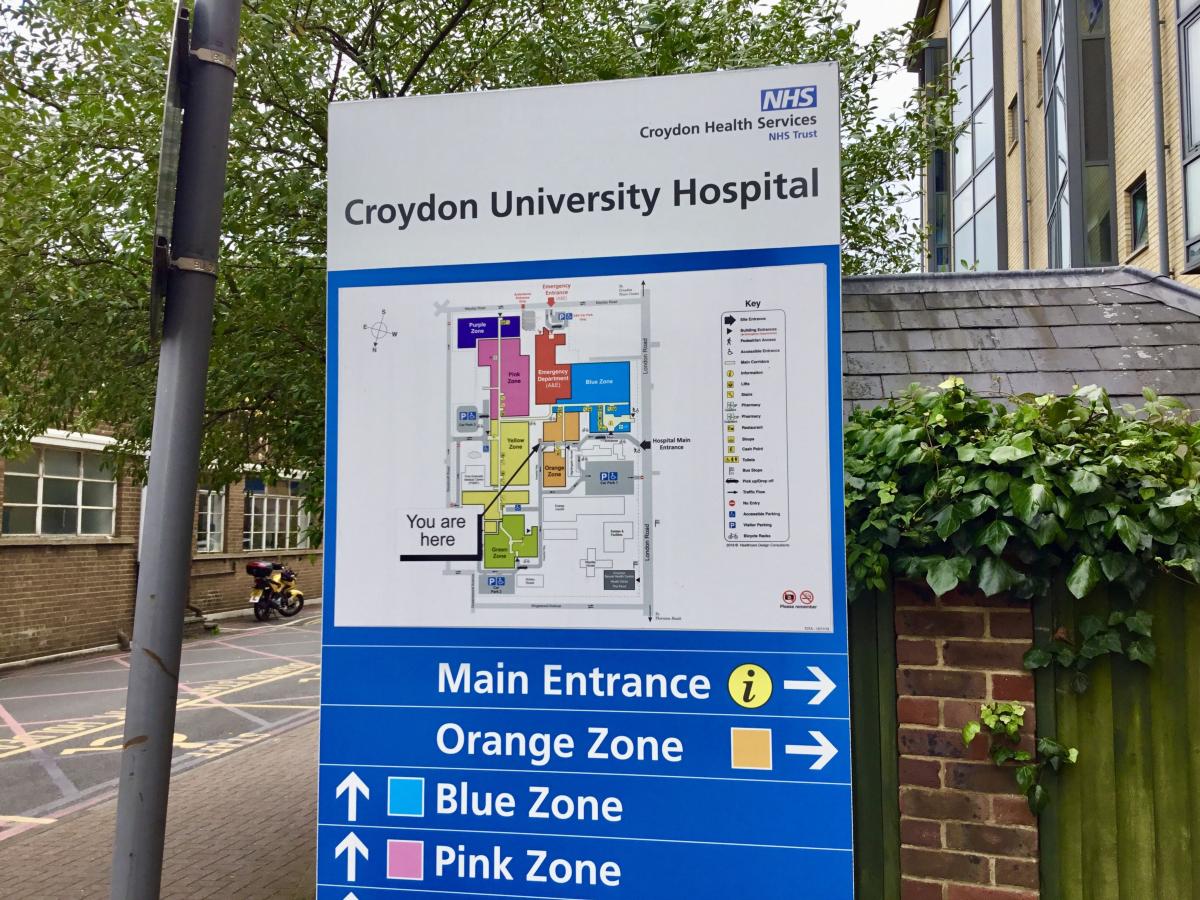 Patient visiting restrictions are to be gradually relaxed at Croydon University Hospital as routine appointments and planned operations begin to resume.
Visiting by friends and family for patients being cared for in hospital will be reintroduced on Monday 15 June. After almost three months of visitors not being allowed due to the coronavirus (COVID-19) outbreak restrictions will start to be relaxed in line with the latest Government guidance. However, tight controls will remain in place to shield patients, visitors and healthcare workers from coronavirus (COVID-19).
Senior nurses in charge of clinical areas will ensure patients and visitors follow very strict protocols when washing their hands and everyone must wear face coverings or masks when in the hospital.
All visitors must maintain social distancing to help control the virus and keep patients, other visitors and staff safe.
Elaine Clancy, Chief Nurse for Croydon who is leading the Trust's response to COVID-19 said:

"We would like to thank our patients along with their family and friends for their understanding during this time. We know that you want to be with your loved ones when they're in hospital, so we're really pleased to begin allowing visitors to be there by your side once again.

"Our amazing staff have been phenomenal in responding to the COVID-19 pandemic and in making sure that our patients are protected and cared for. By limiting the number of visitors we have on our wards, and following the rules on social distancing and face masks, you are helping to keep our patients, yourselves and staff safe from coronavirus."
The hospital's staff will continue to support friends and family of patients in hospital to contact them by telephone or video call, and the Trust has invested in portable tablets on all wards to help patients stay in touch.
However, from Monday (15 June), people will be able to visit their friends or relatives at Croydon University Hospital with the following restrictions in place until further notice:
Adult patients will be allowed one visitor a day, however patients will be asked to choose one consistent visitor throughout the duration of their hospital stay.
Both parents or guardians will be able to visit their child in hospital, but only one parent or guardian will be able to stay overnight.
Women in labour will be allowed to bring a birthing partner to stay with them at all times
Two parents or guardians will also be allowed to visit premature or very poorly patients in the hospital's Special Care Baby Unit, providing strict infection control procedures are followed.
Despite the current coronavirus restrictions, the hospital's clinical staff will continue to do their best to accommodate visiting of patients who are critically ill or nearing the end of their life, including in the hospital's intensive care unit. In these situations, friends or family must wear the necessary Personal Protective Equipment (PPE) as guided by clinical staff.
Further information on the changes to visiting at Croydon University Hospital can be found at www.croydonhealthservices.nhs.uk
If patients or visitors are concerned they have symptoms of coronavirus (COVID-19), including a high temperature, new continuous cough, or loss or change in your sense of smell or taste, please stay at home and check your symptoms online. Do not go to a GP surgery, pharmacy or hospital.
For the latest advice on COVID-19 and what to do if you have symptoms, visit www.nhs.uk