Celebrations all round for Croydon's brightest and longest serving NHS 'Stars'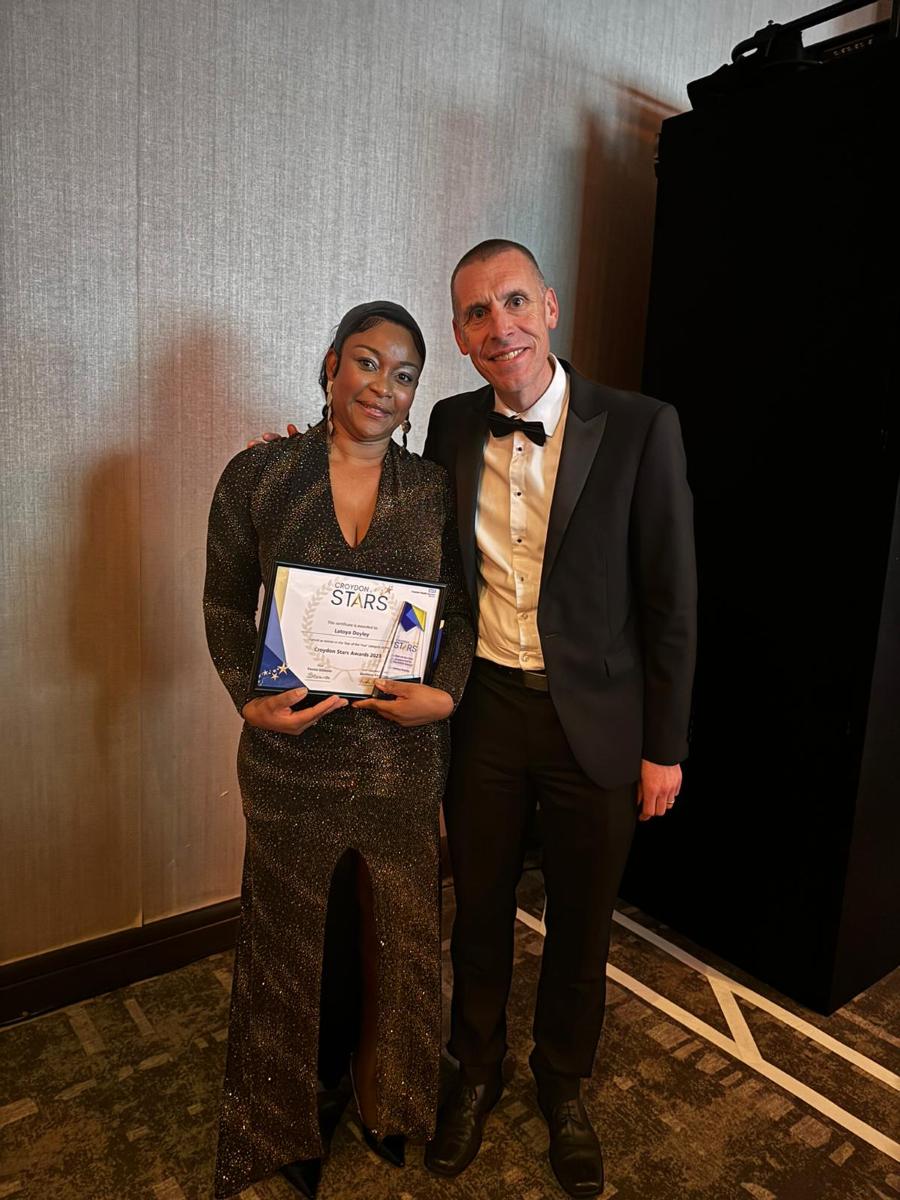 Croydon Health Services NHS Trust celebrated the commitment and care of devoted staff last night (Thursday 16 November) in a ceremony hosted by television comedian Dane Baptiste, which celebrated healthcare workers and those behind the scenes, who deliver life-saving care for patients across the borough.
Winners took home trophies for awards including 'Croydon Cares', 'Sustainability Champion' and 'Star behind the Scenes' as well as 'Star of the Year,' in which nominations came from grateful patients and their families.
Latoya Doyley, an Occupational Therapist Technician caring for people in Croydon's communities, was awarded the 'Star of the Year' award, after her brave actions saved the life of an elderly patient, who needed life-saving CPR in their own home whilst waiting for an ambulance to arrive.
Speaking on the night, Latoya said:
"As an occupational therapist technician, I'm used to working in people's homes, helping them to overcome challenges and supporting them to live as full a life as possible, whether that's after a prolonged hospital stay, major surgery or another illness, injury or disability that has affected their independence.
"Whilst I'm trained to provide life support, this is the first time that I've ever had to do CPR and I'm incredibly grateful that I was in the right place, at the right time, to save my patient's life. I'd like to thank the family, who nominated this award and colleagues at London Ambulance Service and within the Trust, who provided vital onward care."
As well as recognising some of the significant achievements of the borough's NHS workers, the event served as a celebration of those who have dedicated over 30 and 40 years' of their career to the health service, with a special ceremony recognising 'Long Service' recipients.
Matthew Kershaw, Chief Executive and Place-Based Leader for Health in Croydon said:
"From those who have been with us for over forty years, through to our newest 'Rising Stars', these awards showcase the best and brightest that Croydon's NHS has to offer.
"As well as recognising their achievements, the event serves as an important reminder of the breadth of services and support offered by the NHS to the borough's almost 400,000 residents; from preventative and community care and support, through to providing maternity services, major surgical procedures and life-saving medical interventions.
"The strength of our finalists' stories and the sheer volume of nominations from patients, local people and other NHS colleagues is a testament to the efforts of the thousands of NHS workers who are helping to deliver on our mission to provide excellent care to all."
Awards presented on the evening were supported by organisations including HATS Group, Castons, T&B and Unison, each of whom paid tribute to the work of Croydon's NHS heroes.
The full list of the evening's winners are:
Full list of Croydon Stars winners
Rising Star award – Amber Thornton, Communications Officer
Charity Champion - Vanessa Cowie, Consultant Anaesthetist
Croydon Cares Award - Charmaine Bennett, Community Paediatric Patient Pathway Coordinator
Volunteer of the Year – Jim Beacom
Innovation, Improvement and Research - Adam Gregory, Therapist
Leading by Example - Sarkhell Radha, Orthopaedic Consultant
Health and Wellbeing Champion – Gassan Yakob, , Lead Pharmacist, Primary and Integrated Care
Inspirational Educator - Ivy Tsetse, Practice Educator for Health Care Support Workers
Partnership Working - Integrated Community Diabetes Service
Sustainability Champion – Catering Team
Inclusivity Champion – James Walkden, Workforce Intelligence Assistant
Star Behind the Scenes - Stephen Ponniah, G4S Portering Supervisor
Team of the Year – Anticoagulation Team
Lifetime Achievement – John Chang, Consultant Paediatrician and Neonatologist
Star of the Year - Occupational Therapist Technician, Latoya Doyley