All aboard South West London's first purpose-built electric ambulance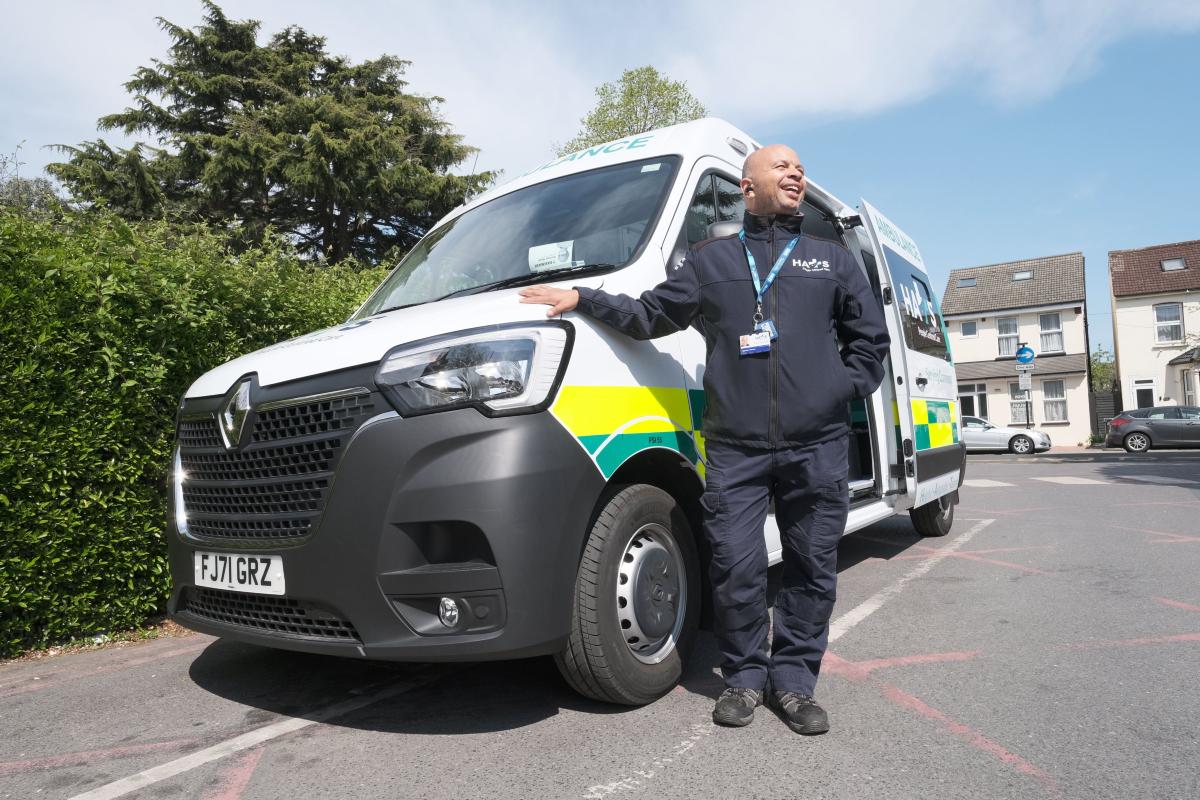 Croydon Health Services NHS Trust has launched South West London's first purpose-built electric ambulance, beginning its replacement of petrol and diesel ambulances with more environmentally friendly ones.

It's an important milestone in the NHS's ambitious goal to become the world's first carbon 'net zero' national health service by 2040. Net zero means causing no more carbon to enter the atmosphere than is removed, to help stop further global warming.

The ambulance, run for the Trust by patient transport service HATS, is now working throughout Croydon, helping patients who require non-emergency transport to and from the hospital.

The new eco-friendly ambulance has already transported over 250 patients, travelling a total of 1,400 miles, and prevented 430kg of emissions* from polluting the environment

Matthew Kershaw, Chief Executive at the Trust and Croydon's Place based Leader for Health, said:

"Our ambitious target to be carbon net zero by 2040 is vital. When our patients get better they need a healthy environment to return to. Everyone deserves this, everyone can make a difference, and large organisations like ours can help lead by example with every positive change we make.

"A comfortable journey at the right time is also fundamental to patients' experience of the NHS, so it's great to hear passengers praising their journeys in the new ambulance."

Alex Howard, Head of Operations at HATS in Croydon, said:

"Changing our ambulances over to electric will make a big difference and we want to show leadership in this, to help inspire others to do the same."

Behind the wheel is Ambulance Care Assistant Mamdouh Seliman (picturred), who said:

"This ambulance is great. It's so quiet and smooth that passengers joke we aren't moving at all! People who have a wheelchair or other needs find it comfortable and spacious too. It's because of this experience that I just bought an electric car for my family. Once you drive electric, you might not look back."

It is part of comprehensive upgrades in the Trust to become more environmentally friendly across all areas of Trust activity, including energy and water use, goods used, medicines, waste and recycling, travel efficiency, green spaces and even the way food is prepared.

Examples include:
The Trust announcing three new waste management contractors last month (April) (Sharpsmart, Veolia and Shred Station) to significantly improve recycling and the thoroughly safe cleaning and re-use of previously disposable clinical tools.
Upgrades to Croydon University Hospital's heat insulation.
Replacing medical gasses, refrigerants and other medical supplies with more sustainable alternatives, and reviewing those supply chains to meet Trust carbon standards.
*The amount discharged by a diesel ambulance making the same trips.